Dr Marion Hersh
Senior Lecturer (Biomedical Engineering)
telephone: 01413304906
email: Marion.Hersh@glasgow.ac.uk
https://orcid.org/0000-0002-4610-8266
Research interests
Marion Hersh has an interdisciplinary background with a first degree in mathematics from the University of Cambridge and a control engineering PhD from UMIST. Her main area of work is assistive technology, with related work in design for all and employment for disabled people.
Particular projects include travel technology for blind people, communication devices for deafblind people, accessibility and usability of educational games, learning support technology for students with mathematics learning difficulties and subtitles showing emotional and contextual features. She also works on technology and ethics and is convenor of the International Federation of Automatic Control Working Group on Ethics.
More information about Marion Hersh's work can be found on her personal website
Invitations to participate in research:
Requests for participants in surveys: Digital Games for rehabilitation and recomender apps for privacy managment for Disabled People.
Marion Hersh is a senior lecturer in Biomedical Engineering at the University of Glasgow and Barbara Leporini is a researcher at ISTI-CNR in Pisa, Italy. We are both disabled.
The survey covers two related studies on (i) digital games in the rehabilitation of disabled people and (ii) mobile reccommender apps with privacey management for disabled people. It has ethical approval from the University of Glasgow.
Please do consider participating. Please contact us if you would like further information.
Contact details:
Survey link (English version):
Further information: There is increasing interest in the use of games in education and rehabilitation and a large and ever increasing number of mobile apps.  There may therefore be potential for the use of games in the rehabilitation of disabled people and the development of recommender apps to aid disabled people in finding products that meet their needs.  Both rehabilitation games and mobile recommender apps may obtain information about the user and the context.  This raises the issues of privacy management. However there are few studies which examine these issues from the perspective of disabled people.   This research is aimed to fill these gaps.  We aim to collect information, opinions, suggestions and expectations about the use of (i) digital and interactive games in the rehabilitation of disabled people and (ii) the use of recommendation apps with privacy management for disabled people.  This brief questionnaire is intended for disabled people and the parents of disabled children under 16, who will complete it on their behalf.
Giochi per la riabilitazione delle persone disabili
Marion Hersh è una professoressa all'Università di Glasgow in Scozia e Barbara Leporini è una ricercatrice all'ISTI-CNR di Pisa. Entrambe siamo persone con disabilità.
Stiamo conducendo due studi: (i) sull'uso dei giochi digitali nella riabilitazione delle persone disabili, e (ii) App di raccomandazione che tengano conto della gestione della privacy per le persone disabili.
Abbiamo ottenuto l'approvazione etica dell'Università di Glasgow.
Per favore considera la partecipazione e contattaci se hai domande o vorresti saperne di più sulla nostra ricerca.
I nostri indirizzi
Link (versione italiana):
Informazioni aggiuntive: App di raccomandazione suggerimenti ed indicazioni, come ristoranti ed hotel nelle vicinanze, oggetti di interesse, ecc. Vi è un crescente interesse sia nell'utilizzo di giochi educativi e riabilitativi che di App per dispositivi mobili, peraltro in numero sempre più crescente. Pertanto vi possono essere opportunità nell'uso di giochi digitali nella riabilitazione di persone disabili, e nello sviluppo di App di raccomandazione per supportare le persone disabili nell'identificare prodotti/elementi che rispondano alle proprie esigenze. In questa prospettiva sia i giochi digitali per la riabilitazione che le App di raccomandazione potrebbero ottenere informazioni sull'utente e il contesto d'uso. Questo può generare problemi di gestione della privacy. Vi sono pochi studi che prendono in considerazione ed esaminano questo tipo di problematiche dal punto di vista delle persone disabili. Questa ricerca è indirizzata a cercare di colmare questa lacuna. Lo scopo principale è quello di raccogliere informazioni e aspettative sia (i) sull'impiego dei giochi digitali ed interattivi nella riabilitazione di persone disabili, che (ii) sull'uso di App di raccomandazione che tengano in considerazione la gestione della privacy. Il presente questionario è rivolto ai soggetti disabili e ai genitori di ragazzi disabili sotto i 16 anni che potranno compilarlo per loro conto.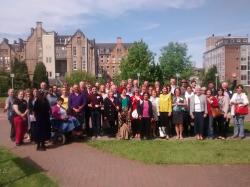 Barriers and Enablers to Learning Maths
Paper submission
Proposals for special thematic sessions
Proposals for working sessions
Keynote speakers
Key dates
Barriers and Enablers 2015
Paper submission
Extended abstracts should be 2-4 pages long.  They should include author's name and email address; brief literature overview, problem or issue statement; problem or issue description; methodology (if appropriate) and results; conclusions; and an indication of how complete the work is.
Abstracts should be single column A4, Arial 11pt text with 2-3 cm margins. MS Word, text and PDF files are accepted. Full formatting is not required at this stage.
Authors should submit extended abstracts, proposals to Kathleen.McNally@glasgow.ac.uk
There are a series of submission dates rather than a single date.  However, there are advantages in submitting earlier, as the lowest registration fee will only be available until the end of March.  Notification will be a month after the submission date.
Submission dates:
Monday 25 September 2017
Monday 27 November  2017
Monday 29 January 2018
Monday 26 March 2018
Proposals for special thematic sessions
You should submit a one page session description and (a) brief bio(s) of the session chair(s) to Kathleen.McNally@glasgow.ac.uk as soon as possible.
Approved special thematic sessions will be posted on the conference website.  Proposers should also publicise approved special thematic sessions.  To appear in the programme a special thematic session will require at least four papers with registered authors.  Proposers of these sessions will have a reduction in their conference fee.
Proposals for working sessions
Working sessions should relate to the conference themes.  They are intended to lead to the development of working groups and/or recommendations related to the conference themes.
Proposers of working sessions should submit a two-page description of the proposed topic with an explanation of its importance and brief bio(s) of the session chair(s).  Approved working sessions will be added to the conference website.
Details of working sessions should be sent to Kathleen.McNally@glasgow.ac.uk by Monday 26 March.
Keynote speakers
** add speaker info including photos from http://www.b2l17.org.uk/keynote-speakers/4593292625 **
Key dates
There are a series of submission dates for abstracts rather than a single date.
Monday 25 September 2017
Monday 27 November  2017
Monday 29 January 2018
Monday 26 March 2018
Proposals for working sessions:  26 March 2018
There are two early bird registration deadlines
Very low rate  Monday 26 March 2018
Early bird rate  Monday 14 May
Conference  4-6 June 2018
Barriers and Enablers 2015
** Photo **
Keynote speakers
Bill Barton (University of Auckland)
Dame Celia Hoyles DBE (The Institute of Education, University of London)
Colin Jones (University of Tasmania)
Ros Sutherland (University of Bristol)
Claire Trott (Loughborough University)
Programme
Session 1 Effective Practice
Supporting Freshmen through Diagnostic e-Assessments and e-Learning Packages
K.F. Hung, S.C. Choy, K.H. Chung and C.K. Chan
A tale of two very different Mathematics Support Centres at two very different universities
J. Nicholas, L. Rylands, C. Coady, L. Armstrong, H. Dhindsa, S. McGlynn, J. Nicholls, J. Pettigrew, D. Shearman
Why 'what works' doesn't work in practice, and what might work better
A. Watson
Effective Differentiation; where a growth mindset meets the ZPD
Y. Reilly, J. Parsons
Maths Diagnostic Testing – Beyond Diagnostics
C. Patel
Session 3 Inclusive Practice
Language as a Barrier to Learning Mathematics
M. Prendergast; F. Faulkner; C. O'Hara
Creating and evaluating an online glossary of curriculum terms for maths for deaf learners who use British Sign Language
K. O'Neill, A. Cameron, G. Quinn, R. O'Neill
Maths for Blind People:  Not reinventing the wheel … crooked
M. Hersh
Speech Interfaces for Mathematics : Opportunities and Limitations for Visually Impaired Learners (pdf)
D. Attanayake, J. Denholm-Price, G. Hunter, E. Pfluegel, A. Wigmore
Session 4 Special Session: Addressing mathematics & statistics anxiety
Addressing mathematics & statistics anxiety by enhancing self-belief
M.  Kotecha
Addressing mathematics & statistics anxiety by individual support
S. Strawbridge
Combating maths anxiety by using history
M. Walker
Session 5 Pedagogies and Methods
Developing an Innovative Curriculum and Teacher Pedagogy for Nurturing a Positive Disposition towards Learning and Using Mathematics in Post 16 Students in England – 'Critical Maths' (pdf)
T. Dawson, S. Lee
Teaching and Assessing with New Methodological Tools (Merlo):  A New Pedagogy? (pdf)
F. Arzarello, R. S. Kenett, O. Robutti, U. Shafrir, T. Prodromou, P. Carante
Enabling Access to A Level Further Mathematics Across England via Blended Learning – 'Lil Fm'
R. Butler, T. Button, S. Lee
Crossing the Threshold: epistemological obstacles and pedagogic circumventions
J. Mason
Assessment of Complex, Non-Structured Mathematical Problems (pdf)
B. Divjak
Session 7 Training and Teachers
Scenario Based Training of Statistics Support Tutors
A. Owen, E. Marshall, S. Smith
Session 8 Special Session:  Student Engagement
The use of video and screen casts to engage and support the learner and promote mathematical thinking (pdf)
N. A. Bradshaw
Enabling pupils; enabling teachers: how a national intervention programme changed maths teaching and learning in an Irish primary context
O'Loughlin
Session 9 Special Session: Enhancing engagement – maths & stats
Teaching maths for economics
A. L. Ariza Jimenez
Social Media v Blackboard Discussion Forums in Teaching and Learning Mathematics
V. Perisic
Syncretic approach to teaching and learning mathematics
L. Fradkin
Online Practice in Mathematics and Statistics. A model for community collaboration
B. Foster
Session 10 STEM
Using social media to promote deep learning and increase student engagement in the College of Science & Engineering (pdf)
S. Ahmed, S. Honeychurch
Using e-Assessment to promote engagement in Engineering Mathematics
K. Henderson, R. Gwynllyw, A. Hooper and A. Palipana
CalculEng for Virtual Mathsaid : The Development and Evaluation of a Set of On-Line Tutorial Resources for Elementary Calculus (pdf)
M. Davis, J. Dhanbhoora, G. Hunter & W. Wiesyk
Experiences of using Audio Feedback in Engineering Mathematics Modules (pdf)
K. Durkacz and E. Mowat
4 – 6 June 2018,
University of Glasgow, Scotland
Call for Papers
The Second International Conference on Barriers and Enablers to Learning Maths follows the highly successful 2015 conference (link to photo) Mathematics should be understood in the widest possible sense to cover all aspects of mathematics, including number, pure mathematics, applied mathematics, statistics and the full range of applications of mathematics.
The conference examines learning and teaching throughout the life span, from the most basic to the most advanced topics and for the full range of learners, including people with dyscalculia and other maths learning difficulties, gifted learners, mathematicians and 'traditional' learners. This should lead to cross-fertilisation between different areas of learning and teaching. The conference is also highly interdisciplinary. In addition to mathematicians, it should be of interest amongst others to psychologists, teachers, pedagogical and educational experts, engineers, scientists and social scientists. The conference is intended for all sectors of education and school based teachers and specialists are most welcome both to attend and participate either on one of the themed days or for the three day duration.
For information on the first conference see
www.ima.org.uk/conferences/conferences_calendar/barriers_and_enablers_to_learning_maths.cfm.html
Thematic sesions and proposals for working sessions are invited to the following four conference tracks:
Motivation and maths anxiety
Inclusive practice and learners' particular requirements
Effective practice – what does and does not work
The use of technology to support learning, teaching and interaction between students and students and teachers